Love your Leftovers – Bananas
Over ripe bananas, we all get them. We buy nice, ripe bananas, and blink, before we know it, they're over ripe, and not nice to eat. I like them riper than my husband, who likes them at that teeth roughening, under ripe stage. But they go from that stage to black in a couple of days sometimes. And although I like bananas, my husband buys loads of the things and sometimes we don't keep up!
Huffington Post reckons that we waste a shocking 162 million bananas every year in Britain alone!
Wiki has lots of interesting information on bananas and their cultivation.  Bananas are a powerhouse of nutrition, high in potassium and magnesium
How to extend the life of your bananas
Buy them really green and they'll keep for days longer
Keep them in a bowl on their own. The gases from other fruit hastens the ripening of the bananas
Don't keep on the worktop, the hard surface will bruise them over a couple of days. They're really quite delicate. Perhaps try a banana tree to hang them on to protect them
Take them out of the plastic bag as soon as you get home
If they are ripe, and you won't be eating them for a few days, wrap them in plastic and refrigerate them
Wrapping the stems (the crown) in plastic wrap or tin foil prevents the escape of ethylene from the stems. This works even better if you carefully separate the bunch and wrap the end of each one individually
If your bananas are heading towards too ripe, pop them into a bag in the freezer and use them for smoothies or baking
Freeze them in their skins and eat them half frozen, like ice cream
Ideas to use ripe bananas
If your bananas are heading towards too ripe, pop them into a bag in the freezer and use them for smoothies or baking
Pat Parker says she freezes hers in their skins and eat them half frozen, like ice cream
Mash them onto hot buttered toast
Freeze in slices ready for all sort of good things
Make banana pancakes. Mix together a mashed banana, a little flour and melted butter and fry
Banana milkshake
Paula Chapman was thinking she could chop them in sections, freeze, coat in peanut butter freeze, dip in chocolate and maybe sprinkles, freeze . Put on a stick if you like
Love a bit of banana custard! Some like it when the bananas are sliced and cold custard poured over. But for me, it has to be sliced banana and hot custard poured over
Or in a sandwich, with lovely salted butter, a drizzle of lemon juice and perhaps some crunchy peanut butter
Vicky Archibald suggests hanging one in a tree for the insects and butterflies who love them!
Substitute banana for an egg when baking
If you have a dehydrator, you could try drying them in slices
Banana chocolate chip muffins
Chewy banana chips
Guzzi Elizabet Franks says that a great way to use up overly ripe bananas is to make chewy banana chips. The picture was a full plate but the little human ate most of them. Really filling too! Literally slice, dip in lemon and bake on greaseproof paper at 150° until golden.
Don't they sound good. I'll have to try that
Raisin and Banana Oaty Bites
Tracey Jackson makes this cheap healthy snack…..Raisin and Banana Oaty bites. Mash 4 bananas, mix with 125g oats and 75g raisins
Mix together. Use a spoon to make 18 bites onto grease proof paper. Into the oven at 160 (fan oven) 15 mins.
Banana Scones
Pat Parker makes Banana Scones which sound lovely
In a bowl, mix 200g sr flour, 50g butter, 2 ripe bananas and a dash milk
Split into 8 portions and cook for 10 mins on Gas 5/ 180C
Banana Chocolate Mug Cakes
These banana chocolate mug cakes are fabulous
Banana ice cream
Banana ice cream, or nice cream as it's often known is a wonderful way to use ripe bananas
Chocolate covered Katie has masses of ideas for different flavours
The classic use it up recipe
Banana cake or banana bread
The classic use for over ripe bananas is banana bread. I even chop up the peel and use that as well in this quick and easy recipe!  You can add walnut pieces to make banana walnut bread, or try cashews; ripple through jam or peanut butter once the mix is in the tin.
Add raisins or other dried fruit. Use wholemeal flour or dark brown sugar. Zest in a lemon and some lemon juice, or orange. All these things change the flavour and allow you to change things up.
Or you could swap out the banana for any other fruit that's soft, cooked pears for instance or tinned apricots. Or maybe cook some apples that have gone wrinkly, and use those. All these different fruits will give a different flavour
Once cooked and cooled, spread with butter and/or jam or peanut butter if you like. I like it for breakfast, toasted, with crunchy peanut butter and apple slices sprinkled with cinnamon
Ideas to use up ripe bananas in savoury dishes
For a Caribbean type curry, over ripe bananas work beautifully. A Good Appetite create this lush sounding chicken version
Baked Savory Bananas
Bananas wrapped in ham with a stilton sauce poured over, then baked in the oven. This recipe is from Aldi

Spicy Banana Courgette Balls
This is a finger food recipe using courgette and bananas in a batter and deep fried. Never come across that combination before! Chicken Curry with Apple, Banana and Tomato
Here's another chicken curry by thecrepesofwrath.com,  it only uses 1 banana though
Banana and Ginger Chutney
Banana would make a great chutney, if you like sweet ones
I couldn't find many savoury uses for an over ripe banana, if you find any more, let me know and I'll add them in
Ideas to use up over ripe bananas
The most frequent thing I do with soft bananas is make a smoothie with them. I whizz them with a whole apple and a splash of orange juice and enjoy them as breakfast or lunch. I don't tend to add any dairy, but milk or yogurt, or even ice cream are good.
Add one to carrot cake
A tip from Mandy Jayne is to add an over-ripe banana to carrot cake, keeps it really moist
Hang a ripe banana in a tree!
Vicky Archibald suggests hanging one in a tree for the insects and butterflies who love them!
Banana and grape crumble
Gillian Anthony says that a good way to use up old bananas is to make a crumble with them, adding some halved grapes. Make sure you cut the grapes in half or they explode hot juice in your mouth and burn.
Christmas crumble
Gillian also says to make a crumble topping. Then for the base, use an apple, pear, one banana, cranberries cut in half, tablespoon of mincemeat.
Banana, nut and chocolate spread
Thanks to Rose Rye for this one
Mash 2 ripe bananas and add the juice of half a lemon.  Add 2 tblsp of cocoa or carob powder and 40g ground almonds.
Makes a fab chocolate spread for toast. Keeps for a week in the fridge, or freezes well
I have tried this and it's fabulous. I also added a pot of double cream and a big dollop of thick yogurt and froze it as ice cream – delicious!
Manchester Tart
Susan Joyce Bracegirdle offered the suggestion of a Manchester tart. Use a pastry base, spread with jam, cover with sliced bananas, then custard, (after it has cooled a little) then coconut.
Microwave banana pudding
How about a BBC Good Food recipe, microwave banana pudding – sounds good to me
Banana Fritters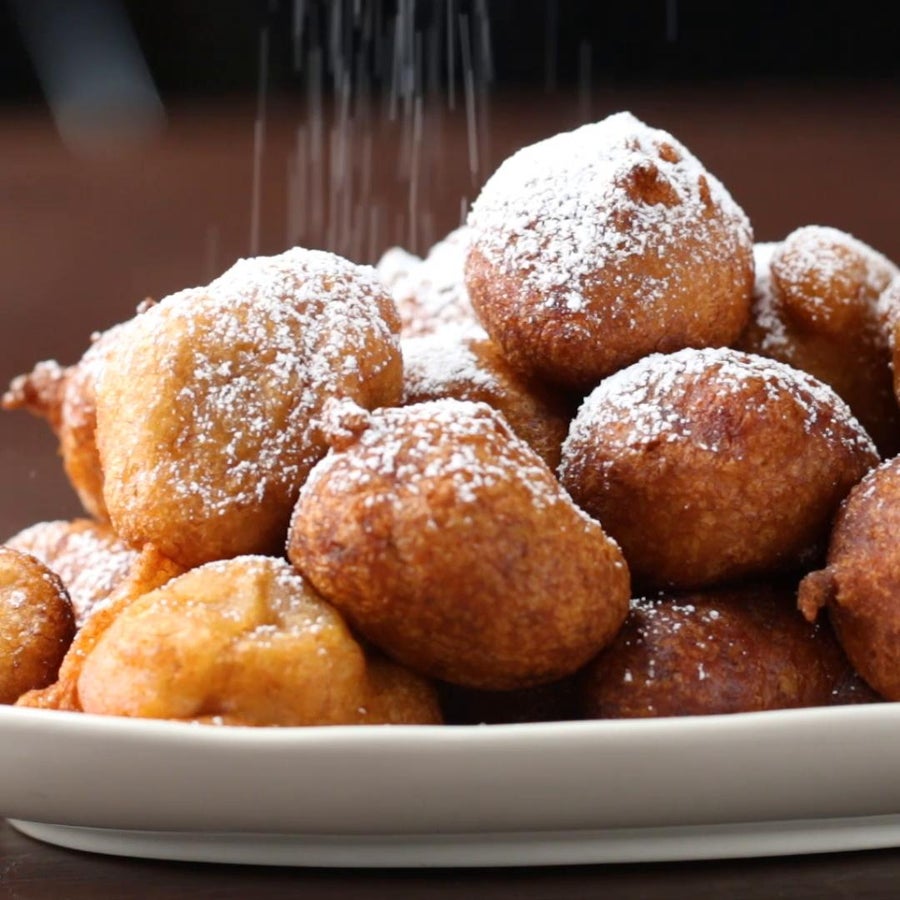 I really want some of these banana fritters from Tasty
Can I eat banana peel?
I'm asked sometimes if the peel, or skin, of over ripe bananas can be used. I've done some research about it as I was intrigued to know the answer. In short, it seems to be perfectly alright to eat banana peels. Wiki says that banana peel is often used for animal feed, water purification, to produce ethanol and as compost.
I often use over ripe banana peel in banana cake now. It disappears and you can't tell it's there!
Banana peels contain protein and masses of fibre too, which we would all benefit from having more of.
Jack Monroe has made some banana peel ketchup which uses all the banana including the peel
Banana Peel Cake
Sarah Wilson has written extensively on zero waste cooking. Her book looks great, but it's a bit expensive right now, I'll wait for a copy to be much cheaper, then I'll get it
40 ways to use over ripe bananas
Want some more ideas? How about 40 more! 
Got some leftover bananas, want to use them up? Even the really black ones? And what about the skin? Click To Tweet
Pat says that your rose bushes would say thank you to some banana peels on the ground at the base of the bush. cover them with a little dirt. Pat says that she didn't as they turn black so quick and shrivel up , but the rose bushes were very lush and bloomed and bloomed.